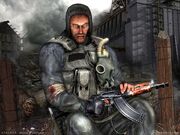 Get out of here stalker.
Our hero wished for "Immortality". Thats how he showed in /v/WE. Well, he just teleported into Skelenegro's office. Armed with vodka, tourist delight and sausage which he traded for ALL his weapons and munitions. Now he needs them rubels as there are no artifacts around.
However, he is suspected to possess some artifacts which might be holding Skelenegro's decision back.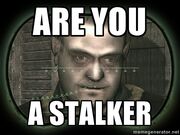 Ad blocker interference detected!
Wikia is a free-to-use site that makes money from advertising. We have a modified experience for viewers using ad blockers

Wikia is not accessible if you've made further modifications. Remove the custom ad blocker rule(s) and the page will load as expected.