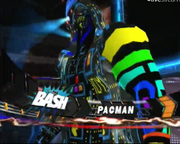 Many people clamored for Pac-Man to be in /v/we, and to this our fiendish COE listened, however, the tricky COE got pacman, but a little too literally. Thought to be an eldritch abomination among the likes of cthulhu, Pac-Monster, as fans got to call him, destroyed his way through rumbles. sometimes getting as high as eight people. He is a beast in the ring, standing well over 8" tall.
While we have yet to see what he does outside the ring, many wrestlers fear the Pac-Monster, or sometimes called Pac-Monk, and his deadly punches and ungodly endurance. He has yet to prove his allegiance and motivations. When asked about them, Pac-Monster either refused to, or couldn't comment. Only blankly staring at the interviewer. Camera's are known to combust near Pac-Monster, so we started by having him sketched, but our graphic artist mysteriously went missing before he could finish his work. Miracilously, a picture could be recovered. We can only wonder how long it'll take for the monster to notice and the wiki suddenly disappears in thin air....
Recently got his shit slapped by Scooter before he could go on one of his infamous royal-rampages. We will have to see if Scooter will be on the receiving end of a smackdown thanks to this.
Mike Erector, our cameraman/announcer is a big fan of his theme. Many suspect this is what got him in the /v/we
Frequently mistaken for Legion from Mass Effect 2
won the first season 1 finale royal rumble, defeating a furious Abobo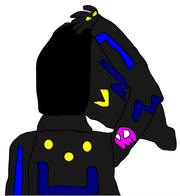 Ad blocker interference detected!
Wikia is a free-to-use site that makes money from advertising. We have a modified experience for viewers using ad blockers

Wikia is not accessible if you've made further modifications. Remove the custom ad blocker rule(s) and the page will load as expected.