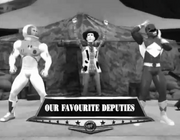 'LEG KICKIN' ACTION'Edit
The team consisted of Woody, Buzz Lightyear and The Roid Ranger.
They debuted on 1/2/12 in a match against Planet Express, unfortunately due to terrorist activity in the ring, the fight was cancelled, and postponed in the ECW arena.
They were a well rounded team, with all three members having a recognised skill of wrestling from the fans of /v/WE.
With the death of Woody EVERYONE, the team appears to have been IS disbanded.
Ad blocker interference detected!
Wikia is a free-to-use site that makes money from advertising. We have a modified experience for viewers using ad blockers

Wikia is not accessible if you've made further modifications. Remove the custom ad blocker rule(s) and the page will load as expected.