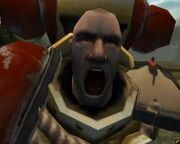 BALD AND FOOLISH CHAPTIAHN OF BHLOODY MAHGPIES.
The single Space Marine with speech difficulities. However he posseses EXTREME strenght, UNBREAKABLE will and SUPERHUMAN stamina.
He was forced to get drugged in order to even qualify to /v/WE. Yet he is a formidable candidate.
FOR THE EMPRAH!
STHEEEL RHAIN!
Ad blocker interference detected!
Wikia is a free-to-use site that makes money from advertising. We have a modified experience for viewers using ad blockers

Wikia is not accessible if you've made further modifications. Remove the custom ad blocker rule(s) and the page will load as expected.