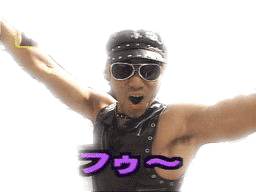 "WOOOOOOO!"
Razor Ramon Hard Gay, also known as just Hard Gay or HG is a japanese veteran wrestler and homosexual idol.
After /v/WE's CEO Skelenegro managed to convince him to wrestle for the /v/WE, Hard Gay left the japanese wrestling promotion HUSTLE and took on the challenge to fight against the best of the best.
Hard Gay mixes a fast style of Educated Feet with his trademark homosexual grappling moves.
Went back to YMCA on 13/02/2012
Footage of Hard Gay in Action
Edit
Although he has not yet had a chance to shine in the /v/WE we have some old footage of HG winning a fight with a trademark pinning move.
thumb|left|240px|Hard Gay wins a fight on HUSTLE by using an unconventional pinning move
Theme Song
Edit
thumb|left|240px|HG's theme that he stole from a japanese singer who stole it himself
Hard Gay is known for helping people on the streets and trying to improve his community
Ad blocker interference detected!
Wikia is a free-to-use site that makes money from advertising. We have a modified experience for viewers using ad blockers

Wikia is not accessible if you've made further modifications. Remove the custom ad blocker rule(s) and the page will load as expected.