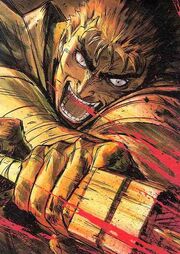 "I've never expected a miracle. I will get things done myself."
HIS LOVE FOR /v/WE IS LIKE A TRUCK.
BERSERKEEEEEEEER.
Dangerous and wearing deamonic armor. Usually wielding mighty Two Handed Sword Big As XBOX. His LUST from BLOOD got him to /v/WE. He heard Griffith is around. He is there, RIGHT?
Also, his name is Guts.thumb|300px|left|Guts Theme (Temporary)
Ad blocker interference detected!
Wikia is a free-to-use site that makes money from advertising. We have a modified experience for viewers using ad blockers

Wikia is not accessible if you've made further modifications. Remove the custom ad blocker rule(s) and the page will load as expected.