Dave is an ancient wrestler from ancient times, but is now wanted by the cops for the murder of Lita, who didn't survive the massive stop sign and cheese beatdown combined with a jump from a ladder.
Another self-inserted character that nobody likes

self-insert implies that it was inserted by one's self
Women's Champion from over a decade ago
Transported through time by the CEO
Terrible at wrestling what did you expect from a woman?

Beat Ivory to within an inch of her life with a stopsign for the Women's Title.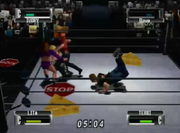 Ad blocker interference detected!
Wikia is a free-to-use site that makes money from advertising. We have a modified experience for viewers using ad blockers

Wikia is not accessible if you've made further modifications. Remove the custom ad blocker rule(s) and the page will load as expected.